Tel: 01773 743 585 - Email: sales@whitesfj.co.uk Whites Fine Jewellers Ltd. 38 Oxford Street Ripley Derbyshire DE5 3AP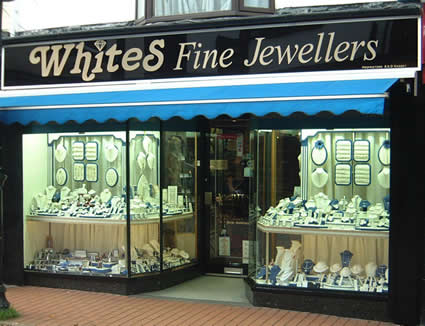 About Us
Whites Jewellers was an old family jewellers founded by Mr Whites Grandfather in 1884 in Ripley Derbyshire. In 2001 Mr White retired & sold the business to Steve & Debbie Massey. Steve has always enjoyed & been involved in the jewellery trade.
Qualified in the 80s with his Retail Jewellers Diploma R.J.Dip & is a qualified gemmologist gaining his Gemmology Diploma, F.G.A.
Also he was awarded the Butterworth Trophy for best student Gemmologist. At 21 years old having become manager of a medium to high class local jewellers felt that he could not progress higher & decided to broaden his horizons by working on large cruise ships in their dedicated jewellery shops.Since then he was offered a position in Bermuda as General Manager Running two busy Jewellers & a Fine Jewellery Workshop. His previous positions gave him good product knowledge & business sense. Then ready & eager to start his own business he was lucky to purchase Whites Jewellers in Ripley, seven years ago. Now having nearly 35 years in the Jewellery trade, Steve has offered a Valuation service for the last 23 years; he is also bench orientated & undertakes many repairs of watches, jewellery & engraving.